If you have any information about these crimes or any person(s) involved, you are urged to call Crime Stoppers or submit a Web Tip.
Felony Theft Investigation, Springfield Township Police Department
September 30, 2021
Springfield Township Police are looking to identify the following theft suspect. On 9/30/21 between 8:15 am and 9:00 am, the victim had his wallet taken from a locker at the YMCA at 9601 Winton Road. The suspect then went to Staples in Bridgewater Falls and spent $2,033.53 using a stolen card. The suspect also went to Lowe's and purchased $1,270.51 worth of items.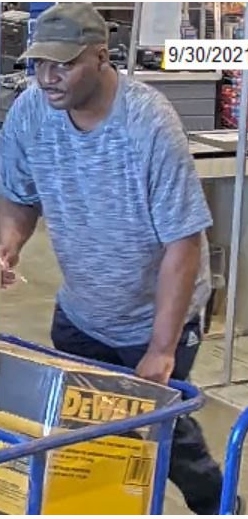 If anyone knows the pictured suspect, please contact Det. Camardo at 513-729-0003 Ext. 6128 or Crime Stoppers at 513-352-3040 with any information.
---
FELONY AUTO THEFT INVESTIGATION
September 29, 2021
FELONY AUTO THEFT INVESTIGATION
9/29/21
On 9/29/21, at 9:00 AM, an auto theft offense was committed at St. Francis Court Apartments, located at 1860 Queen City Avenue. The suspect parked next to the complainant's running vehicle and exited a brown, older model Chevrolet Silverado with 3 white designs on the rear window. The suspect then entered the complainant's 2018 white Chevrolet Spark and drove away. The suspect is a white male, 5'7" to 5' 9", 180 lbs., with bushy brown hair and a full beard. The suspect was wearing torn blue jeans, black and white gym shoes, and a grey or white t-shirt. The suspect was in the company of a female white with brown shoulder-length hair, blue jeans, and a brown shirt. If anyone sees this suspect, he is currently wanted for the investigation of auto theft. Please contact Det L. Mendes of Cincinnati Police District Three Investigative Unit at 513.263.8331, Crime Stoppers at 513.352.3040, or Crime Stoppers website at P3TIPS.com.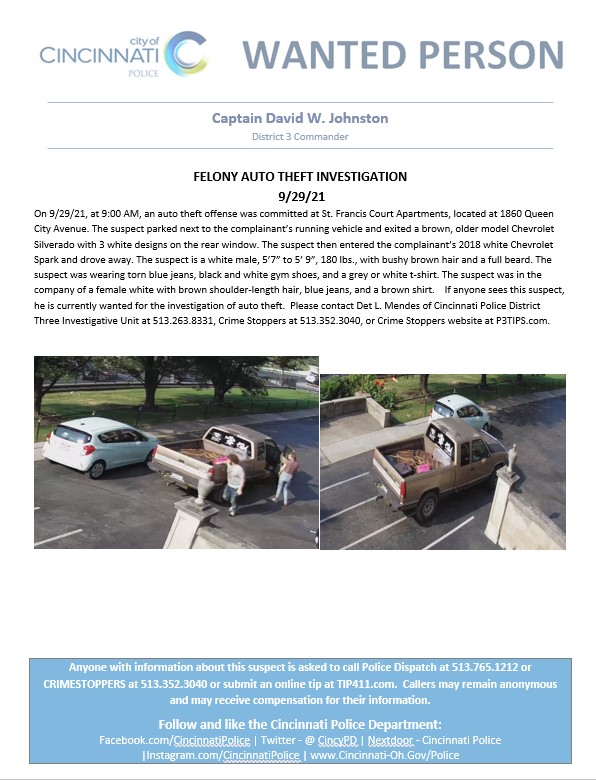 ---
Central Business Section Investigation
September 24, 2021
STATUS
: OPEN
Cincinnati Central Business Section need your help to identify this suspect accused of stealing purses from the Christ church located at 318 east 4th Street. The victims were in our city visiting for a wedding.
If you can identify him submit your tip here or call Crimestoppers at 513-352-3040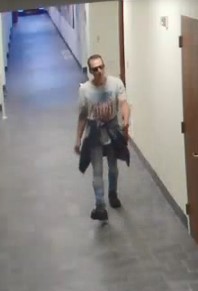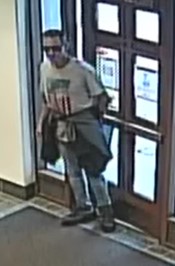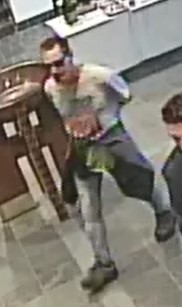 ---
Theft of Credit Cards, Springfield Township Police Department
September 03, 2021
On 9/3/2021 between 08:00 and 11:00 the below subject entered unlocked vehicles at the Glenview Golf Course. Taken were multiple credit cards that he used in Colerain at Walmart, Target and Best Busy. Below are pictures of the subject. He is believed to be driving a silver BMW 535i GT.
IF anyone knows who this individual is they can call Springfield Township Police at 513-729-1300 or Det. Jim Stroud at 513-729-0003 ext. 6407

or Crime Stoppers at 513-352-3040.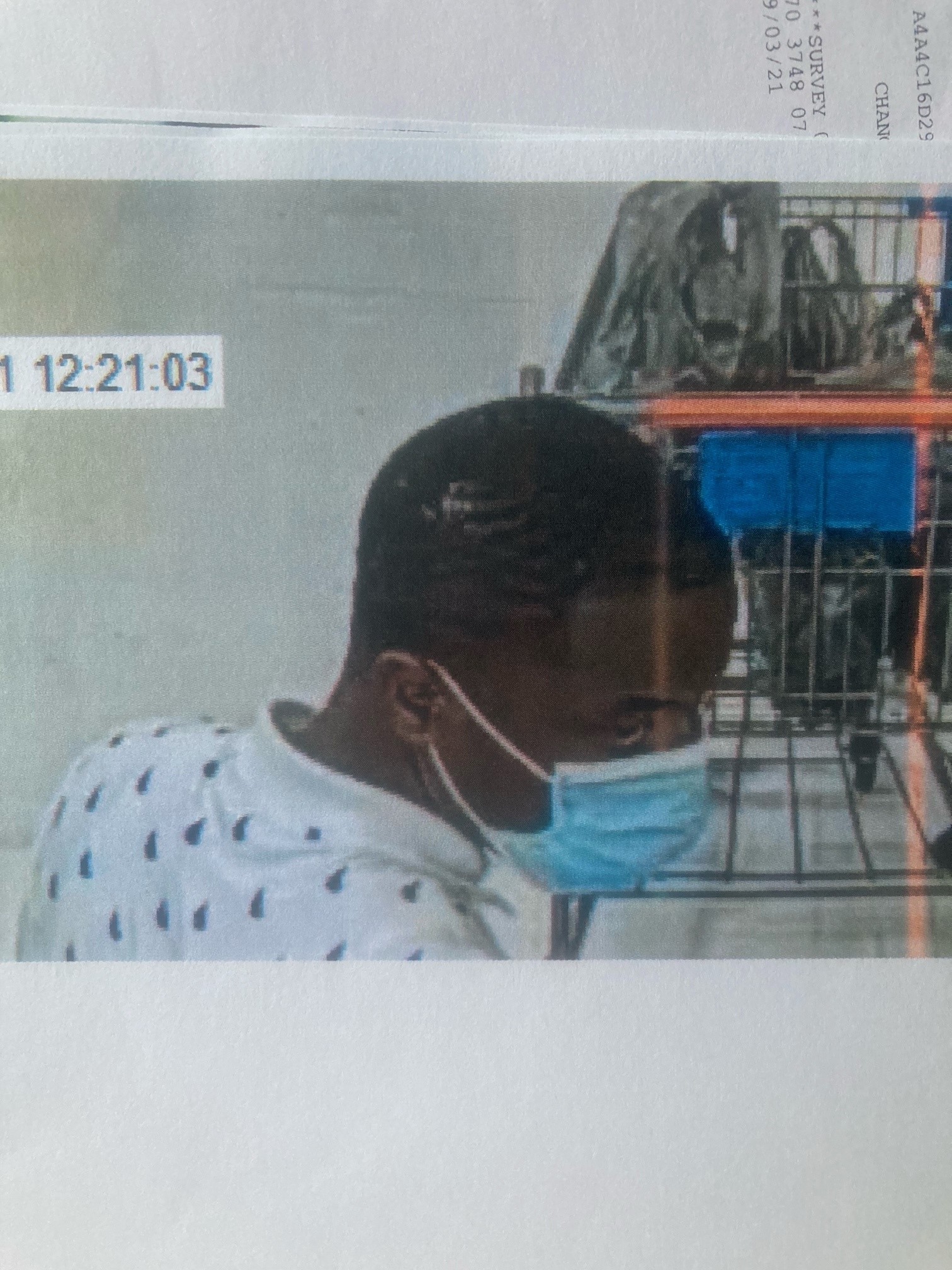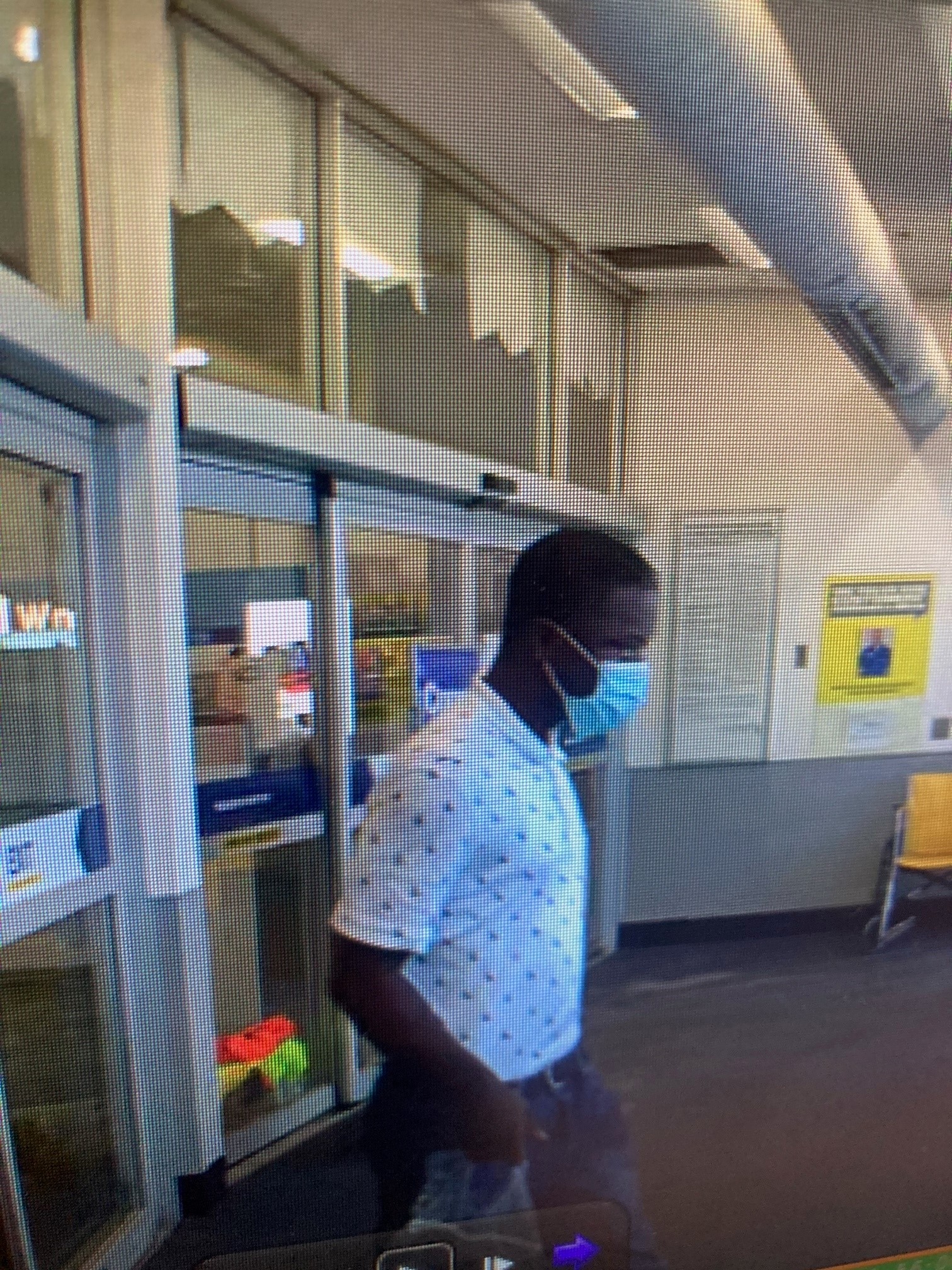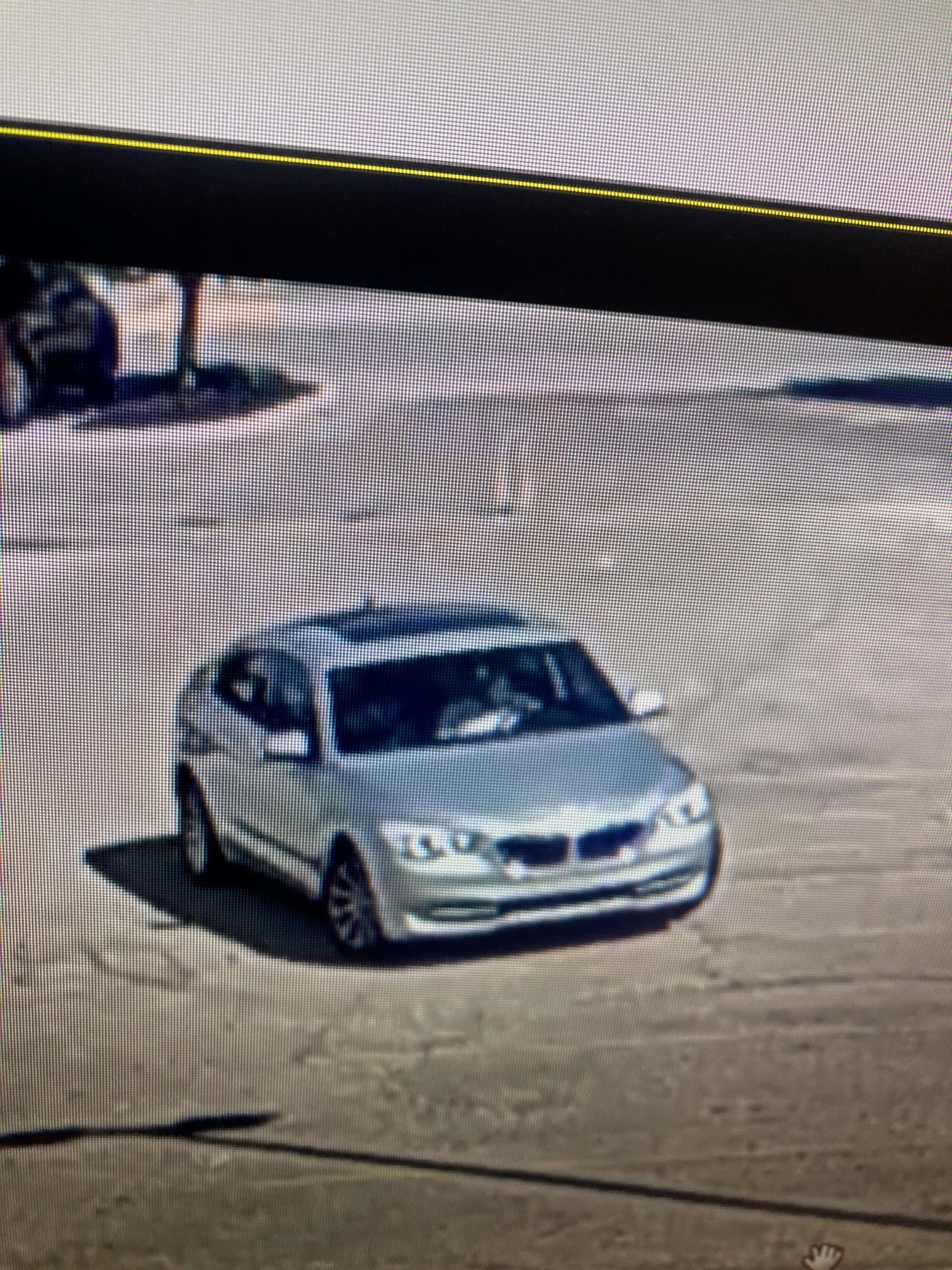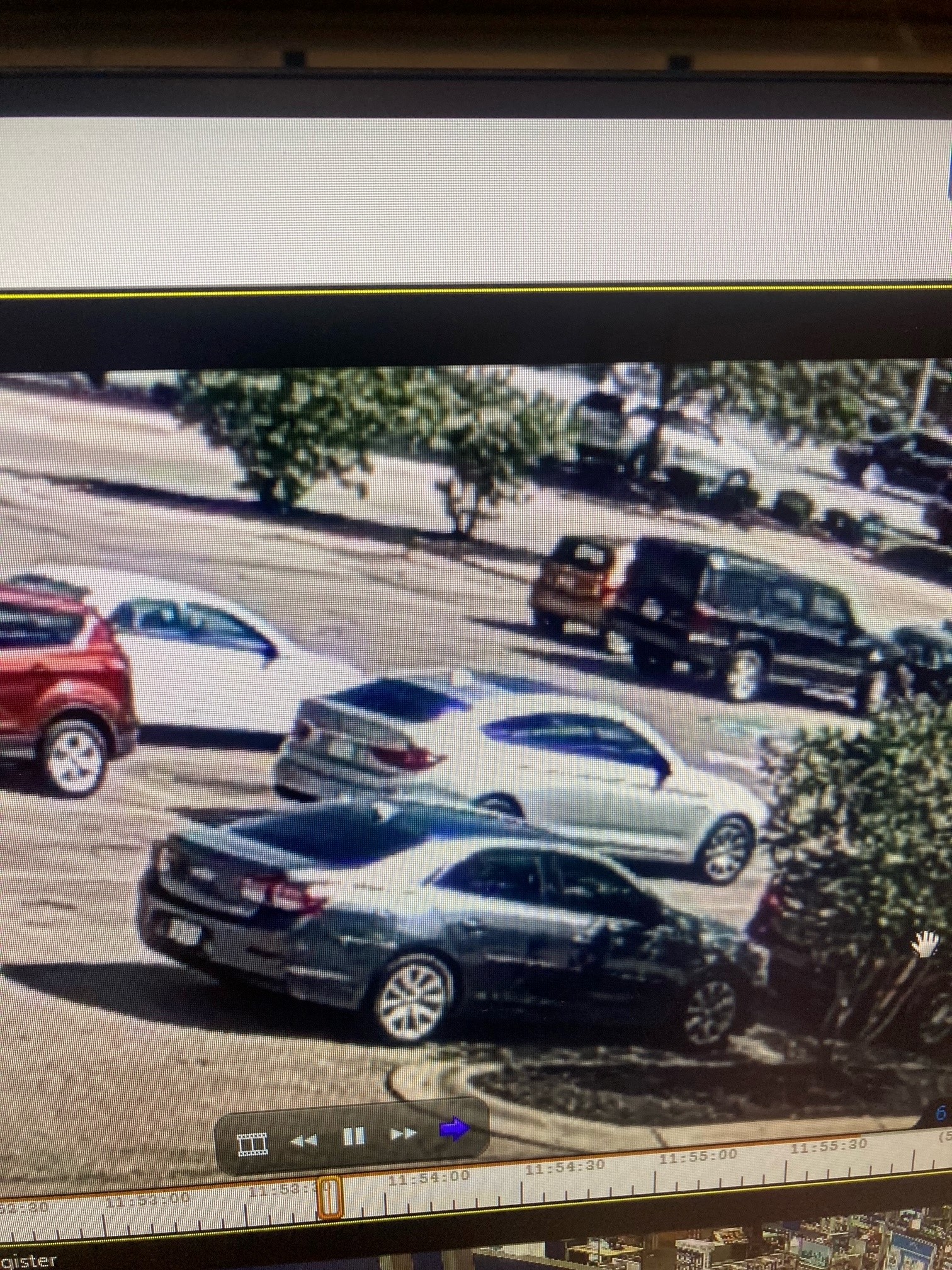 ---
Aggravated Menacing INVESTIGATION
August 27, 2021
Aggravated Menacing INVESTIGATION August 27, 2021 Cincinnati Police Department District Two Section is investigating an Aggravated Menacing that occurred in Oakley at 3320 Ibsen Av. The offense occurred on August 8th , at 12:40PM at listed location. The victim who is a Metro bus driver advised the suspect that he had to wake up and leave the bus. The suspect became very irate and pounded on the bus and door and threatened to kill the victim.
If you can identify this suspect call Crimestoppers at 513-352-3040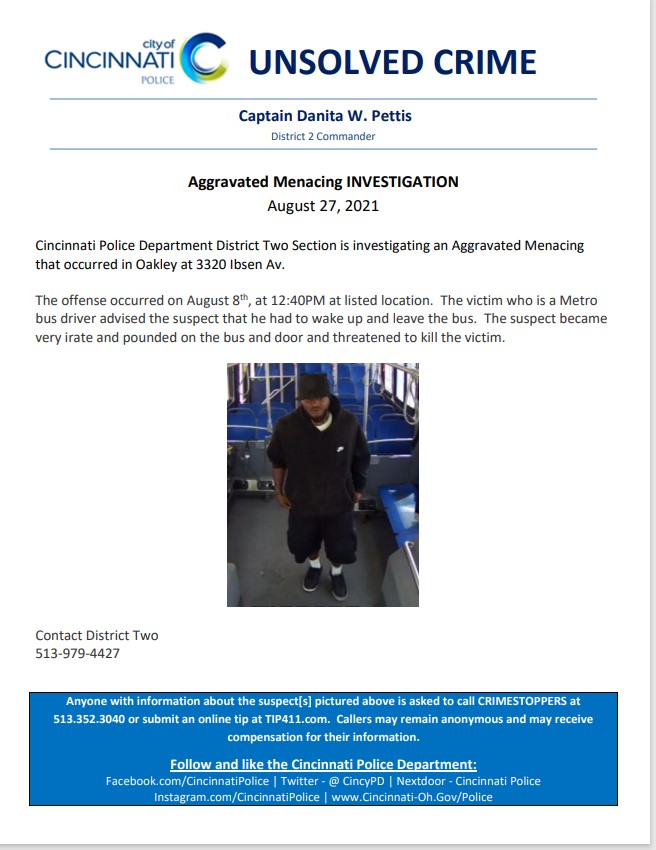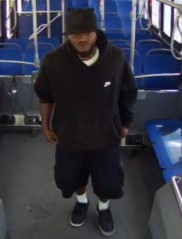 ---
ROBBERY/ INVESTIGATION
August 19, 2021
ROBBERY/ INVESTIGATION
September 1, 2021
Cincinnati Police Department District Four is investigating a Robbery that occurred at 119 E. Corry Street.
The Robbery occurred on August 19, 2021 11:05 P.M at listed location. Victim states an unknown suspect grabbed her from behind, struck her in the head and took property then fled on foot with another unknown suspect. Picture is from Stop and Go on W McMillan St. Suspect was captured on video using the victim's credit card.
Property Taken: purse including credit cards
Suspect Information: Two male blacks, late teens early twenties wearing all black at the time of the offense.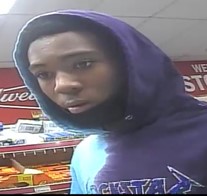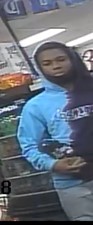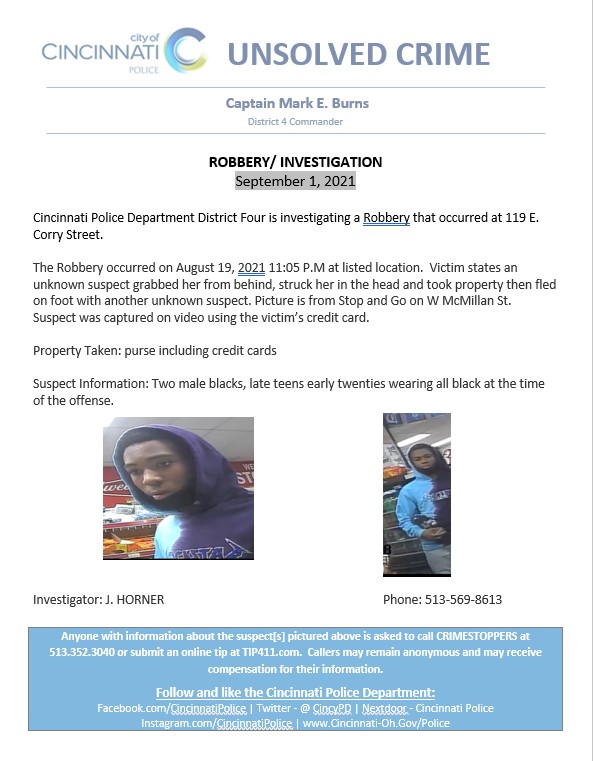 ---
PUBLIC INDECENCY/ INVESTIGATION
August 16, 2021
PUBLIC INDECENCY/ INVESTIGATION
August 16, 2021
Cincinnati Police Department District 2 is investigating an incident of Public Indecency which occurred at 3350 Erie Av., Cinti, Ohio 45208
The Public Indecency occurred on August 1, 2021. The victim states an unknown suspect came into the store and started to talk to her. The suspect then exposed himself to the victim. There is available video surveillance footage of the suspect.
Suspect Information: Male black, lt. gray t-shirt, gray basketball shorts, black gyn shoes. Photos from two different days. Drives a Chevy Silverado 4 door tan or silver in color.
Please contact Crimestoppers at 513-352-3040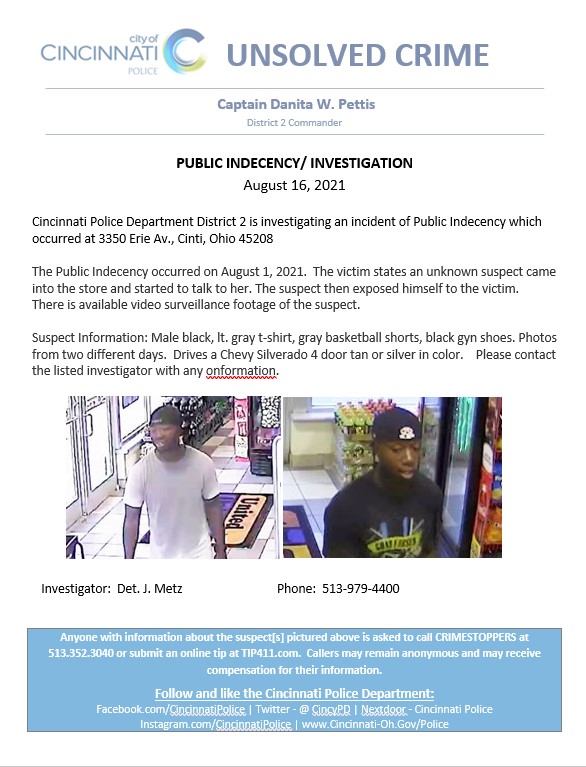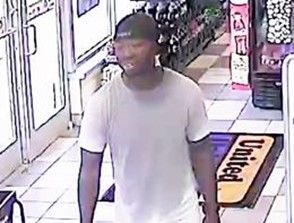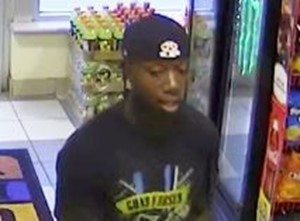 ---
D2 IDENTITY FRAUD/ INVESTIGATION
August 10, 2021
IDENTITY FRAUD/ INVESTIGATION
August 10, 2021
Cincinnati Police Department District 2 is investigating multiple cases of Identity Fraud which has occurred at the US Bank at 3424 Edwards Rd. Cincinnati, Ohio 45208.
The unknown suspect obtained the victim's debit card number and uses that number to withdraw money from their account.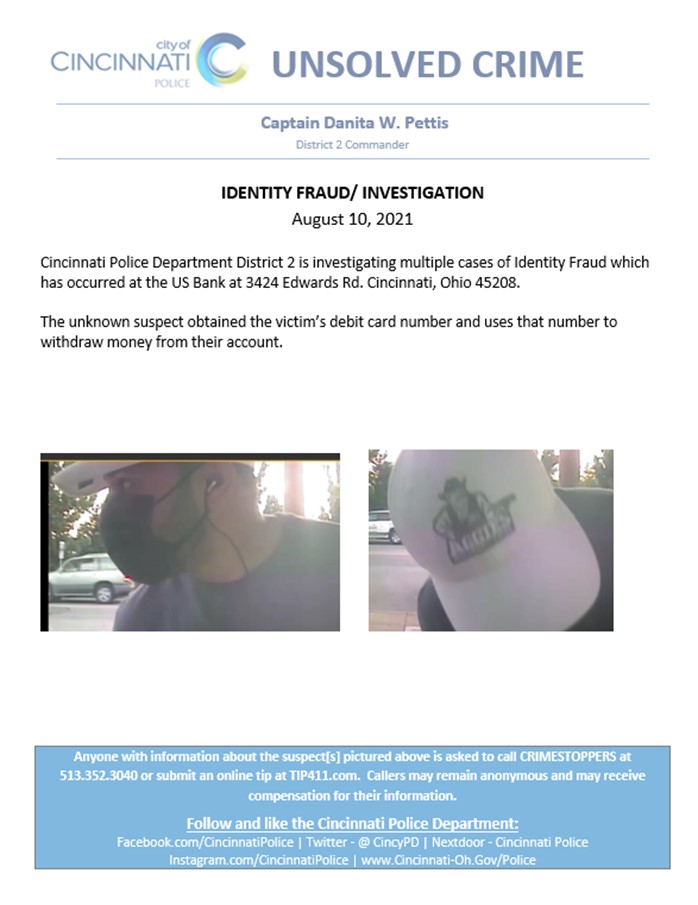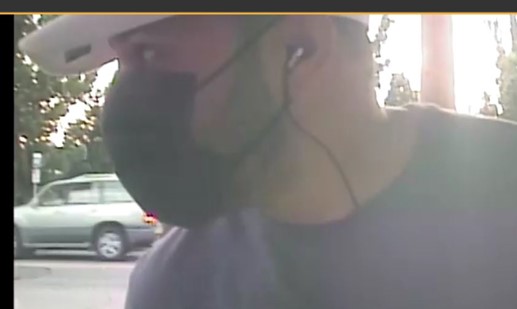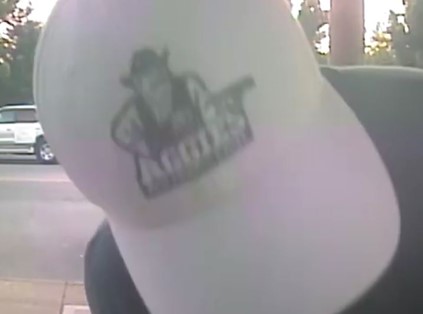 ---
Thefts from Vehicles Montgomery Police Department
July 27, 2021
STATUS
: OPEN
For Further Information Contact FOR IMMEDIATE RELEASE
Detective Lauren Frazier
Montgomery Police Department
513-985-1608
lfrazier@montgomeryohio.org
Thefts from Vehicles
(MONTGOMERY, Ohio)–
During the past several weeks, there have been multiple thefts from vehicles parked at local cemeteries and parks including offenses in Montgomery, Evendale, West Chester, Blue Ash, and Fort Thomas (KY). The suspects are preying on elderly victims that are mourning their loved ones. The suspects typically go to various retail stores to purchase $1,500 transactions worth of gift cards. Surveillance video shows that there are at least two black male suspects, one with a distinct tattoo of a Bentley logo on the back of his neck. A suspect vehicle was identified in earlier offenses, believed to be a darker colored 2020-2021 GMC Acadia. The suspect vehicle being driven now appears to be a black 2017-2020 Nissan Pathfinder. If anyone can help identify the suspects involved, please contact me.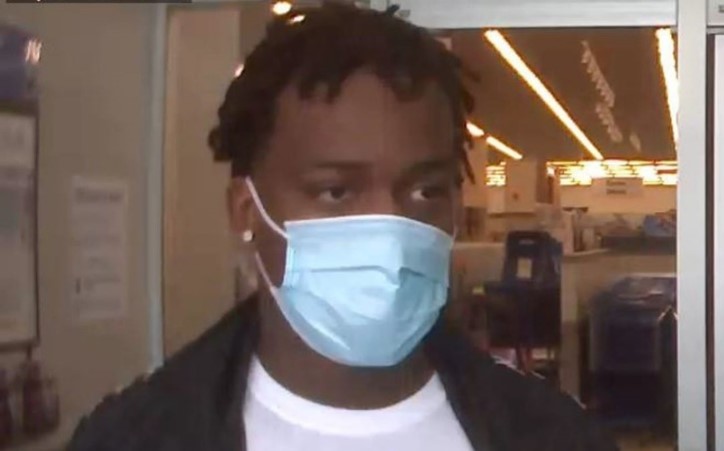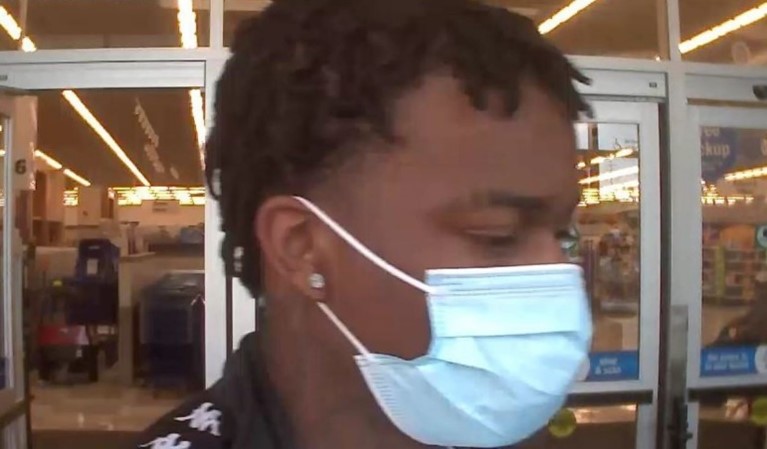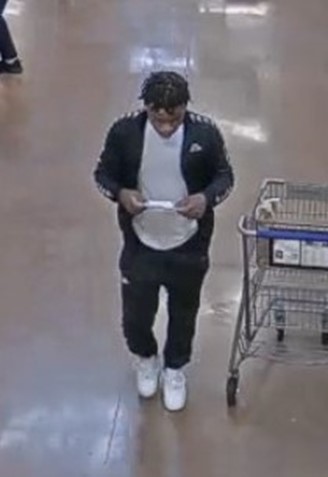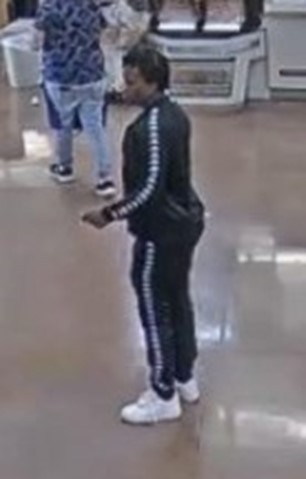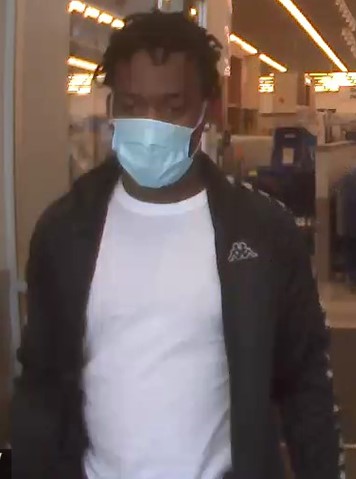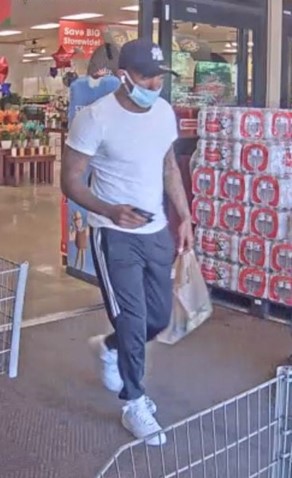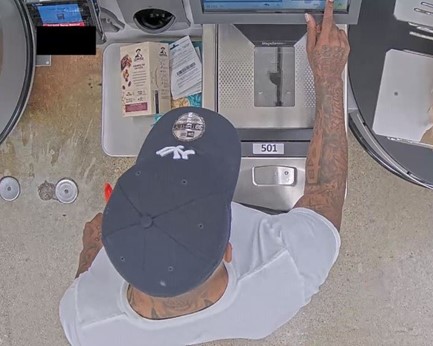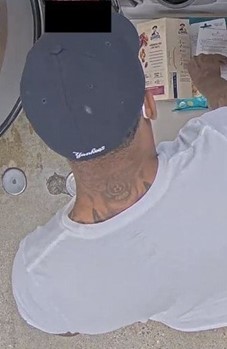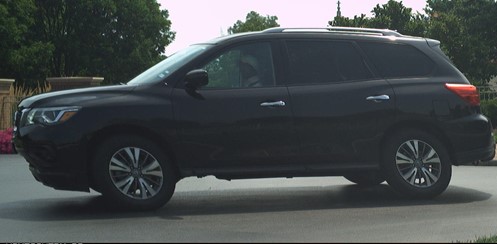 ---
Felonious Assault, Cheviot Police Department
July 20, 2021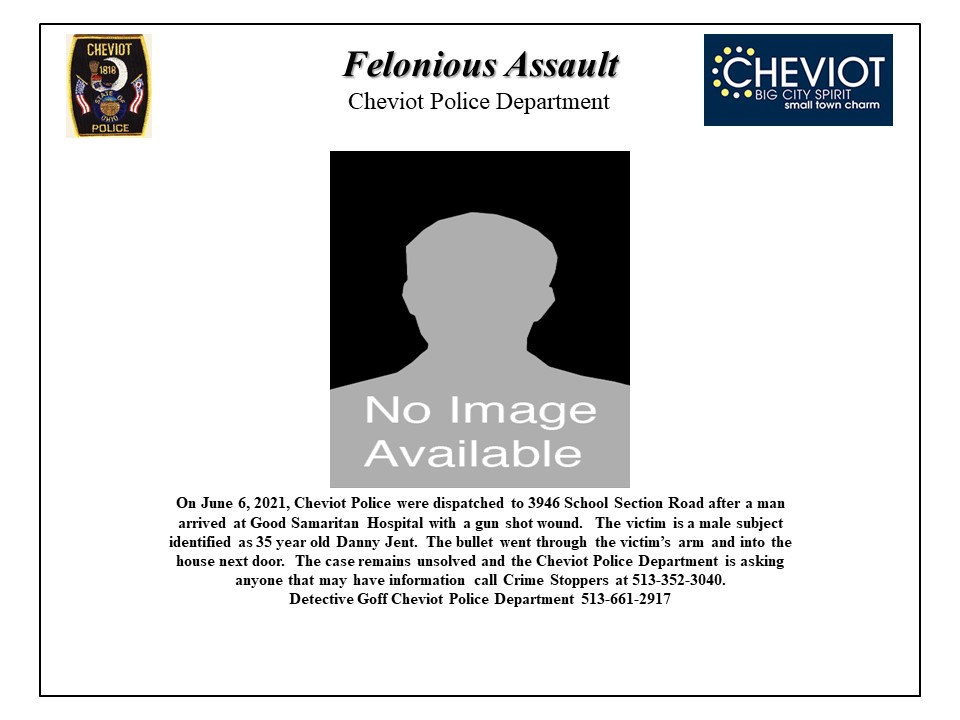 ---